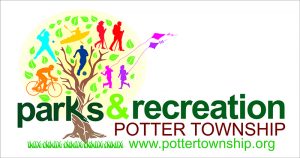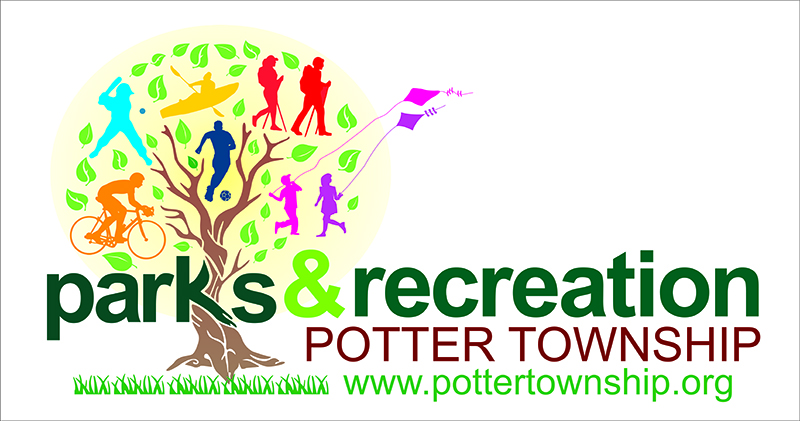 Parks & Recreation meets at 7:00 p.m. (2nd Monday of month)
Resident Board Members Needed Board members are needed for support and planning to maintain Colyer Lake walking trail, Potter Athletic Complex (PAC), and locate areas where walking trails and small parks could enhance the health and wellness for our residents and visitors. Additional support is welcome to plan events that would bring the community together and showcase the many gems available in Potter Township.
Keep up with news and events! Like our Facebook page!
Board Members

Meeting Agendas 2023
January 9, 2023
February 13, 2023
March 13, 2023
April 10, 2023
May 8, 2023
June 12, 2023
July 10, 2023
August 14, 2023
September 11, 2023
October 9, 2023
November 13, 2023
December 11, 2023
| Member | Term Expires |
| --- | --- |
| Kim Domin, Chair | 12/31/2026 |
| Nicholas Millard | 12/31/2027 |
| John Smith | 12/31/2023 |
| Thompson Hunt | 12/31/2027 |
| Kate Hunt | 12/31/2024 |
| Amber Hubert | 12/31/2025 |
| Carol Michelotti | 12/31/2025 |
Meeting Minutes (Approved) for 2023 [*** Means No Quorum]
January 9, 2023
February 13, 2023
March 13, 2023
April 10, 2023
May 8, 2023
June 12, 2023
July 10, 2023
August 14, 2023
September 11, 2023
October 9, 2023
November 13, 2023
December 11, 2023